Private Instruction
One-on-one and small group courses (also available as tutoring) stand for intensive language instruction and personalized support.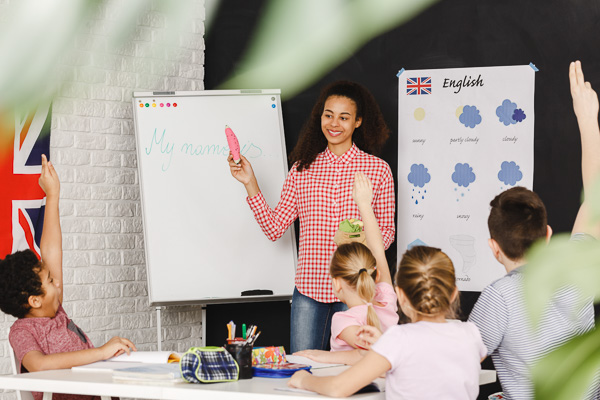 What's New
Fall 2022 JLC Private Instruction
After the school break and our JLC summer camps, we are running again a lot of private language courses for kids and teens. Trending this fall:
"First Encounters with English" (5- to 8-year-olds, in private lessons and groups of 2),
"Individual School Help" (English, French, Spanish),
"Focus: Communication" (supplement to school English),
"Integration Made Easy" (DaF for preschool and primary school children).
Are you also interested in our private lessons? Book your demo lesson now:
Private Instruction at JLC
We're here to meet your learning needs!
Our private lessons are the most flexible form of instruction: The participant determines the day, time and scope of the lessons. In addition, wishes regarding the focus of the lessons and the content can be expressed. For example, children and teenagers come to prepare for a stay abroad, a language trip, a move abroad or an important exam.
Your advantages with private lessons:
Flexible class times and course duration
Native-speaking instructors
Reaching your learning objectives
No grade or performance pressure
Fun and joy in language learning
The lessons are filled with varied, age-appropriate activities and tasks that meet your learning objectives – even if it is, for example, to prepare for a class test or to brush up on grammar, learning can be fun!
Through the application of our teaching concept, most children notice after a short period of time that the inhibitions they had with language use gradually disappear, and that the children discover or rediscover great enjoyment in the language.
Prices for Private Classes
One-on-One Classes, 10 hours à 60 Min.
Groups of 2, 10 hours à 60 Min., per Participant
Groups of 3, 10 hours à 60 Min., per Participant
* Further discounts are available for immediate booking of 20 or 50 hours.
Private groups of 2 or 3 are organized by participants (e.g., school friends, siblings, etc.) and assume similar age and level of all participants.
The demo lesson is subject to a fee, but without obligation to book. In case of a subsequent booking of a 10-lesson package, the demo lesson can be considered as No. 1 of 10. A break is possible at any time: The booked and prepaid credit of lessons has no expiration date. After the expiration of the booked hours, it is possible to extend for another 10, 20 or 50 hours.
Consultation:
 Do you have a question? Just give us a call!
No Registration Fees
We do not charge any additional registration or processing fees.
No Hidden Costs
We provide your kids with all the materials they need in the courses free of charge.
Flexible Online Booking
Book or extend quickly and flexibly via our online booking portal.
Frequently Asked Questions
What do we do if we go away for a long time?
The booked lessons have no expiration date, so you don't have to worry. The lessons can be continued when you are back from your trip.
Can private lessons take place at our home?
Most of our courses take place at our premises. One of the many reasons behind this is the fact that it allows our freelance teachers to schedule more courses consecutively. However, it is also possible to teach at the participants' homes. In this case, however, we charge a surcharge – travel fee.
Contact Us
Contact us – we will be happy to assist you!
Grafenberger Allee 78-80
D-40472 Düsseldorf
Germany