Welcome to the
Junior Language Club
THE Language School for kids and teens in and around Düsseldorf,
established in 2003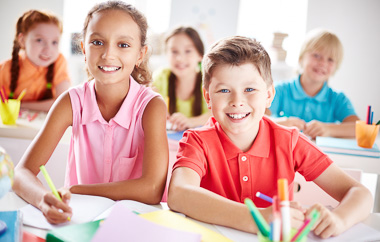 Group Classes
Junior Language Club Düsseldorf offers weekly group courses in German as a Foreign Language, English, Spanish, French and Italian.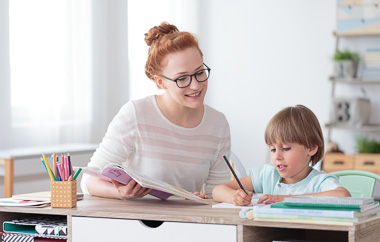 Private Instruction
Individual and small group courses (also available as private tutoring) offer intensive immersion and personalized support in language acquisition.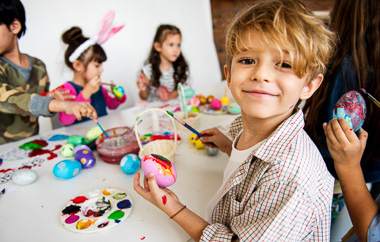 Language Camps
Junior Language Club organizes language camps during the Easter, summer and fall school holidays for the languages English, German as a Foreign Language, Spanish and French.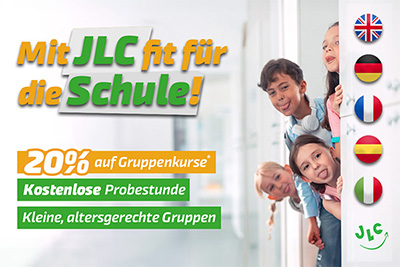 Latest News: Back to School!

Bye bye summer, hello 20% discount!

The Summer vacation is over and school is back in session, which means our popular group classes are ready to begin as well!
Our teachers are looking forward to seeing all Bambini, Kids and Teens back and welcoming new students to JLC.
We also have something special planned for our 20th anniversary this year: Join our celebration by enrolling your children in one of our group classes and receive a 20% discount on your first term as a new customer!
Click here for a free trial lesson: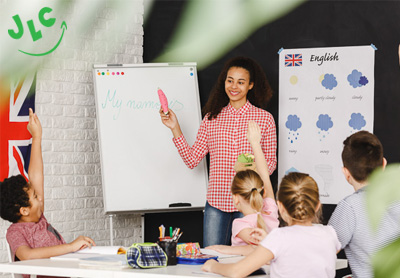 About Us
Junior Language Club
Since 2003, Junior Language Club has been THE language school of choice for children and teenagers aged 3 – 16 in Düsseldorf. We present our kids and teens with the opportunity to get acquainted with and learn to love foreign languages, or to improve their existing language skills.
Success in Language Learning with the

JLC
The JLC's language training concept was developed for three different target groups which, in turn, are further subdivided based on age the target language as well as on the present level of competence in it. Everyone – Bambini, Kids and Teens – receive age-appropriate instruction, and the individual wishes and objectives of the learners are incorporated within the process of instruction.
Our main objective is that our young learners enjoy what they do and look forward to coming to our Language School. Coupling our kids' individual interests with having fun in the learning process secures our teaching success.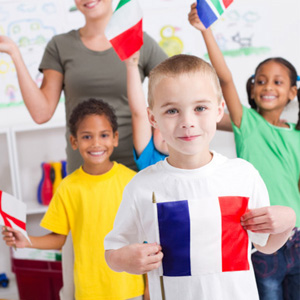 Preschoolers
Bambini are taught to learn languages with all senses. By way of example, words are connected to a specific movement, and this connection of listening, seeing and sensing allows for a holistic way of adopting the learning material …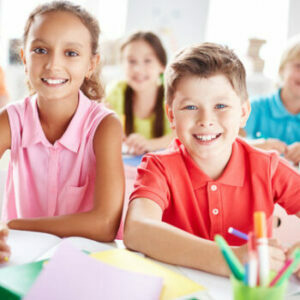 Schoolkids
Kids are exposed to the standard forms of instruction without being subjected to lecturing – we place great value on initiative and independent learning. The holistic approach also applies to kids' classes  …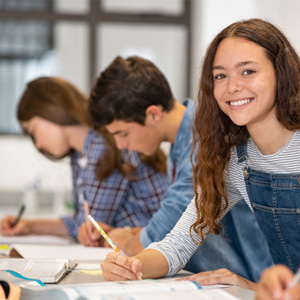 Teens
Teenager classes focus – in addition to the common teaching elements (cf. Kids) – on training speaking abilities and articulation as well as on vocabulary extension and expansion. As our native-speaking instructors …
20+ Years of Experience
in language training for children, founded and led by experts in pedagogy.
Native-Speaking Instructors
motivated and experienced in working with young learners.
Modern, Bright-lighted Classrooms
Our modern, inviting classrooms are TÜV certified.
Small Groups
Our small, homogenous group classes are geared at age-appropriate instruction, games and fun.
Free Demo Lessons
Before you register your child for a group course, we invite him / her to visit the group – free of charge and without obligation.
Learning Objectives of Your Choice
In our private lessons, which we offer in all languages, the participants determine their own learning pace and objectives.
Quality Consultation and Advising
Our experienced staff will be happy to advise you on all aspects of language training.
Centrally Located in Düsseldorf
Optimal transport links with free short-term parking and several subways / trams, buses and S-Bahns in the immediate vicinity.
Cafeteria and Terrasse
Comfortable, inviting waiting areas for parents as well as siblings.
What people say about JLC:
"My son had German lessons for almost one year. The teacher was very good at teaching small kids a new language in a wide range of enjoyable ways, such as playing board games and card games, reading picture books, and drawing pictures. His German has improved so much and now he can talk to his friends and teachers in kindergarten without any problems."
"Super nice and competent teachers! Very good lesson design and fast learning success! Questions are always answered quickly. Wishes are taken into account. We are completely satisfied, therefore clear recommendation!"
"My two children (ages 9 and 12) are avid fans of the JLC language school. The teachers teach the language in an age-appropriate way and in a way that the children enjoy. The contact persons on site are very competent, nice and very helpful. The organizational handling is very professional. Thank you very much and keep it up!"
"Thank you dear JLC team, my son has made great progress and now speaks much more than before. I can only recommend it. And thank you to Jana for your great work. Arwin is thrilled and always looks forward to the lessons!"
"I have attended summer camp before and the kids loved it. This time I'm going to sign them up for the fall course."
"My 10 year old son attended the language camp during the Easter vacations. He had so much fun that he really wanted to continue. Now we have booked an English course together with 4 friends twice a week. It works out great and is a real enrichment.... Highly recommended!!!"
"Très bonne école! Nos enfants ont adoré le cours d'allemand pendant les vacances, et se sont beaucoup amusé. Nous recommandons vivement, et reviendront avec certitude l'été prochain."
"Very friendly and competent team, both in advice and competence. My four year old son really enjoys going to Spanish classes, at first he was a bit shy but by the second time it was much better. The teacher is very empathetic and responsive to the little ones, I think that's very good."
"I am a freelance teacher for JLC, and as an employer JLC is an excellent place to work for. JLC staff and other teachers are very welcoming and open, which makes it a very dynamic and enjoyable workplace for teacher and student alike. The staff does an excellent job finding the right teacher for each child to maximize their learning potential."
Frequently Asked Questions
How old are the children who learn languages at the JLC?
Our smallest "bambini" are usually 4 years old, and the biggest teens are 16. Here, participants are divided according to age for group courses, so that the age range is no greater than 1 to 1.5 years.
Do you also offer language courses for adults?
The JLC offers language courses for children aged 4 to 16. Our sister language school for adults, GoAcademy International House Düsseldorf, located in the same premises, has a wide range of language courses and programs for adults (from student age). For more information, please click here.
Contact Us
Contact us – we will be happy to assist you!
Grafenberger Allee 78-80
D-40237 Düsseldorf
Germany